After the Dr.Phil show aired, we were contacted by several of the people who played very important roles in our story and risked much to keep us together. We now have contact with many long lost friends! Thanks Dr.Phil !


Heather is now 36, married and a mother of three beautiful children; Payton, Nealey and Lauren. She is a nurse and lives with husband Shawn in Brookhaven, Mississippi. She is a wonderful mother !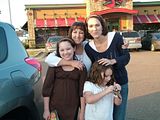 Brian is 35 and has two children; Emma and Mason. He lives in Humble,Texas with his wife Mynda and recently graduated from the University of Houston "Magna Cum Laud." A member of the Psi Chi honor society while there, he is now pursuing a PHD. in child psychology. Quiet and reserved, he is without a doubt the best father the world has ever seen.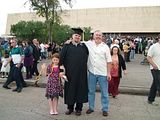 Melissa is now 33 and engaged to fiance Tony. She is in management with a very large home builder and just like her brother, she does everything to the best of her ability. She is outspoken, fearless, loves life to the fullest and rarely lets a day go by without calling her Daddy.

 
    WindBlown Books  is working to  produce these childrens books . Please contact Melissa or Glen for more information.

   Should Marvin be President?  the story of a boy that grows up poor but loved and repays with selfless kindness after he becomes wealthy.

  Is God keeping score?   a story of how God keeps track of our good and bad deeds.

  The misadventures of Scardee Cat. Scardee is afraid of everything but slowly explores his world!

  Walking on Water.  Jesus chose to die on the cross for us, this man that could part the sea. He could have made the cross turn to mud, but did not for you and me.

   Payton gets a Pony. Little Payton gets a stick  pony but to him it's real.

   Sally and Thomas find trouble!  A squirrel and rabbit unite against an oppossum to save a birds' eggs knowing that each one alone can't help but together they CAN.

  I scared the Easter Bunny!  Mason comes face to face with him and makes a new friend only to be laughed at by his family when he cannot prove it.

  My Butterfly and I.  I am never alone when I play in my back yard.

  An Imaginary Menagerie!  A boy with no siblings finds animal friends to play with in his imagination,  from monkeys in the attic to hippos sipping ice tea by the pool.
           
  The story of Gabby and Rainmaker.  A touching story of how a pelican helps a mama seagull save her babies during a terrible storm thanks to common friends.         
                                                        
                 All Copyrights 2004, 2005 and 2006. Glen C. Schulz. All rights reserved.